ZENNER IoT Gateways with LoRaWAN® Network & Visualization – Overview & Comparison

- 📖🕓 ≈ 
5
min -
Did you know that the Minol-ZENNER Group also offers its own IoT gateways? In this article, we would like to give you an overview of which ZENNER IoT Gateways are actually available, how they differ from one another in a direct comparison and for whom or which application areas/sectors they are particularly suitable and what advantages you have when buying such a gateway. You will also find out why it is worth ordering a gateway with the convenient additional option ZENNER IoT PLUG&PLAY and what all this has to do with our community.
GatewayPLUS SMART, Indoor or Outdoor
You can currently purchase three different ZENNER IoT Gateways based on LoRaWAN® in the ZENNER Shop I IoT Sensors & Solutions. In addition to the GatewayPLUS SMART and the GatewayPLUS Indoor, the GatewayPLUS Outdoor is also available. All three are delivered pre-configured as standard with access to the LoRaWAN® network EUROPE from Minol ZENNER Connect GmbH for 24 months and 50 devices (sensors). They use the powerful LoRaWAN® technology, which is characterized by excellent building penetration and extensive network coverage, thus ensuring the connectivity of your IoT sensors even under difficult environmental and installation conditions. Furthermore, the gateways have in common that use is currently only possible in the Minol ZENNER Connect network and thus only together with the backend system B.One Middleware.
But what is the difference between the GatewayPLUS SMART, Indoor and Outdoor? There is a direct comparison in the following table:
Smart Home / Building / School, Submetering, Indoor Air Quality Measurement...

Smart Home/Office/School, Multi-segment reading, Submetering, Monitoring on transformer stations, Indoor air quality measurement...

Smart City / Parking / Waste / Lighting, transformer station monitoring, shaft meter reading, asset tracking...

Wi-Fi 802.11 b/g/n, frequency band: 2.4 GHz, security: WPA/WPA2

Cellular: Mini SIM - 2G, 3G (UMTS), 4G (LTE) - internal antenna

Mini SIM - 2G, 3G (UMTS), 4G (LTE) - external LTE antenna

RJ45 - priority over mobile radio

RJ45 - priority over mobile radio

16 channels - two external antennas

230V socket (Euro plug) / USB Type-C (900mA)

External power supply (230V) / Internal power supply (230V, in preparation)

Power over Ethernet (PoE)

Internal: 1x LoRa, 1x Wi-Fi

Internal: 1x LoRa, 1x Wi-Fi

External: 2x LoRa, 1x LTE

Plastic with flame retardant according to UL94 -2013 Rev.9 -2019, class.: V- 0

Plastic with flame retardant according to UL94-2013 Rev.9-2019, class.: V-0

Power, LAN, mobile radio, backend connection (visible from outside)

Power, LAN, cellular, backend connection (only visible when case is open)

EN 301 489-3, EN 300 220-2

EN 301 489 -3, EN 300 220 -2

Quick and easy commissioning I WLAN connection via WPS function I very small form factor I mobile gateway function through power supply via USB-C port and WLAN connection via smartphone hotspot

Quick and easy commissioning I Automatic connection to the back end via preconfigured SIM card I Simple and unobtrusive design

Automatic connection to the backend via preconfigured SIM card I Very robust and powerful I 16 frequency channels
If you would like to learn more about the individual gateways, we recommend the following articles. Here we present each gateway in detail:
For an overview, here are the central features of all ZENNER gateways:
suitable for LoRaWAN® IoT solutions from ZENNER and network operation from Minol ZENNER Connect
bidirectional LoRaWAN® radio communication
encrypted data transmission end-to-end (AES 128)
high level of data protection: no storage of data / readings on the gateway
plug & play – easy integration with preconfigured software
compatible with the Gateway Management System (GMS) B.One Middleware from ZENNER (remote configuration)
Use in Germany and many other EU countries (as of May 9th, 2022: Austria, Denmark, Sweden, the Netherlands, France, Spain, Italy, Croatia, Slovenia)
Construction & use of common IoT Infrastructure
Each GatewayPLUS automatically expands the LoRaWAN® network from Minol ZENNER Connect GmbH. This means that, due to the technology, all LoRaWAN® end devices in the reception area of your gateway are received in encrypted form and transmitted to the Minol ZENNER Connect as the network provider. Encryption and client separation in the B.One Middleware ensure that each end user only receives the data from their own end devices. By purchasing a GatewayPLUS, you also create added value for the entire B.One Community , as this creates an ever-growing, jointly usable IoT infrastructure . You yourself benefit directly from the connectivity even beyond the reach of your own gateway – and together we are driving digitization forward in various areas. And so that as a community member you can see where there is already network coverage through the gateways of other members, you can optionally display the approximate position of your own gateway on the so-called Community Map.
GatewayPLUS with Network & optional Visualization
As already mentioned, with the purchase of a ZENNER IoT GatewayPLUS you always automatically get access to the LoRaWAN® network of the MZC in Germany and other EU countries(see above), hence the name "GatewayPLUS". Here you benefit, among other things, from the high network coverage thanks to operation by Minol ZENNER Connect as one of the largest LoRaWAN® network providers. Do you want to get an impression of it? Then take a look at our overview map.
You can also book the convenient ZENNER IoT PLUG&PLAY option for an additional charge. In addition to the hardware and network access, you also receive a license for the visualization platform B.One Gallery for 24 months and 50 devices (without automatic extension).

To order a gateway with this option, simply select it in the shop via the checkbox and place the desired product in the shopping cart.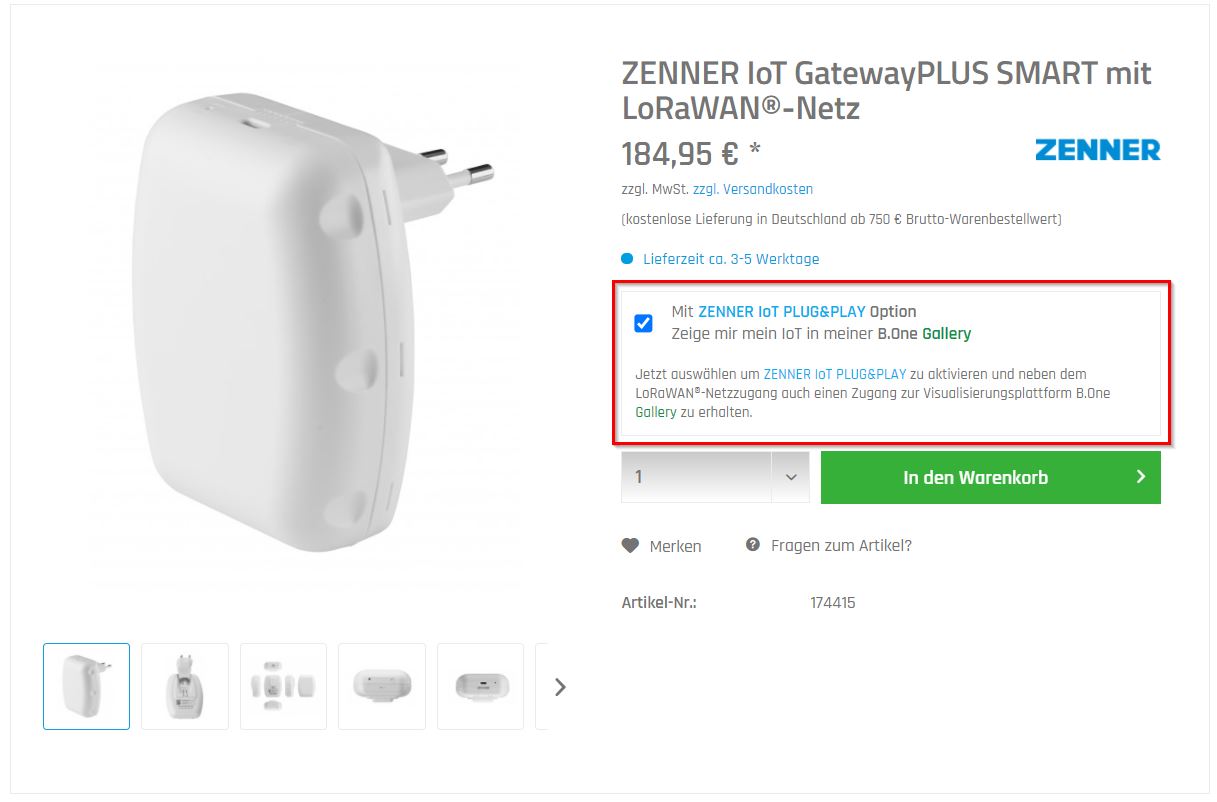 After you have received your access data, you can either integrate your existing sensors into the B.One Middleware and the B.One Gallery , or you can simply order suitable ZENNER IoT PLUG&PLAY-capable sensors with the corresponding option. These are then automatically created for you in the systems so that you can view and use your sensor data directly. Simply PLUG and PLAY !
Want to learn more about this new option? Then take a look at the ZENNER shop or our blog category ZENNER IoT PLUG&PLAY.
You don't know the B.One Gallery yet? Then take a look at our blog category B.One Gallery.
Have you already had experience with one of the ZENNER gateways or do you have any questions? Then share them with us in the comments or send us a message!
Recommend

0

recommendations
Published in Gateways, Visualization, ZENNER IoT PLUG&PLAY