ZENNER IoT GatewayPLUS Indoor – Powerful Indoor Gateway with LoRaWAN® Network

- 📖🕓 ≈ 
5
min -
Last updated: 09.05.2022
As announced in the article about the ZENNER IoT Gateways, after the ZENNER IoT GatewayPLUS SMART we are now presenting the ZENNER IoT GatewayPLUS Indoor in detail. What makes this gateway? What are advantages but also limitations? For whom and which use cases is it suitable? This post provides you with answers to these questions.
The Gateway
As the name suggests, the ZENNER IoT GatewayPLUS Indoor is a powerful and compact indoor gateway. It is ideal for making a LoRaWAN® connectivity in buildings and in the building environment to receive values from sensors thatsensors that are difficult to access (heat cost allocators, smoke alarms, water or heat meters, room sensors, etc.) on several floors including basement rooms without the need for an additional repeater. The GatewayPLUS Indoor has already been installed in several thousand LoRaWAN® system installations of the Minol-ZENNER Group and is an integral part of many Minol-ZENNER IoT system solutions.
What is special about this gateway, in addition to the attractive price, is that it automatically connects to the Gateway Management System (GMS) B.One Middleware as soon as the power supply is on after installation/assembly. So you don't have to worry about storing the gateway in the system before commissioning. A connection to the backend is possible both via mobile radio (thanks to the integrated SIM card) and via Ethernet, and the gateway impresses with its compactness and the deliberately simple design. This means that it is hardly noticeable in its surroundings and is less susceptible to damage from vandalism .

Features & Technical Specifications
Below is an overview of the central performance features and then the technical specifications of the ZENNER IoT GatewayPLUS Indoor:
suitable for LoRaWAN® IoT solutions from ZENNER and network operation from Minol ZENNER Connect
bidirectional LoRaWAN® radio communication
encrypted data transmission end-to-end (AES 128)
no storage of readings on the gateway
plug & play – easy integration with preconfigured software
compatible with the Gateway Management System (GMS) B.One Middleware from ZENNER (remote configuration)
Security patches and software updates are distributed automatically
Use in Germany and many other EU countries (as of 09.05.2022: Austria, Denmark, Sweden, Netherlands, France, Spain, Italy, Croatia, Slovenia. Country frequencies must be observed)
LoRaWAN® gateway modules according to reference architecture 1.5
automatic switch from cellular to Ethernet backhaul (if available)
Manufacturer's CE declaration of conformity including all relevant and applicable regulations on radio, low voltage and electricity
| | |
| --- | --- |
| | |
| | Wall (mounting material included) |
| | Mini SIM - 2G, 3G (UMTS), 4G (LTE) - internal antenna |
| | RJ45 - priority over mobile radio |
| | 8 channels - internal antenna/s |
| | |
| | |
| | currently: external power supply (230V), future: internal power supply (230V) |
| | Internal: 1 x LoRa, 1 x mobile radio |
| | |
| | Plastic with flame retardant according to UL94-2013 Rev.9-2019, class.: V-0 |
| | |
| | |
| | Power, LAN, mobile radio, backend connection (visible from outside) |
| | EN 301 489-3, EN 300 220-2 |
| | |
| | |
| | |
Benefits & Limitations
In addition to the special features just mentioned, the following advantages should be mentioned with this IoT gateway:
quick and easy commissioning (required mounting material with 2x screws, dowels and mounting plate included)
automatic connection to the backend via preconfigured SIM card
simple and unobtrusive design to protect against vandalism
available in the future with an internal instead of the current external power supply
On the other hand, there are no significant restrictions, except that, as with all ZENNER IoT gateways, a configuration on other proprietary backend systems apart from the B.One Middleware is currently not possible. Therefore, there is currently no way to view the gateway together with other sensors created in the personal B.One Middleware account/client. The latter is basically only required for the installation of sensors whose data is to be received via the gateway (see also the "Installation & Setup" section below).
For whom and what the Gateway is suitable
On the one hand, the gateway is ideal for municipal utilities, public institutions, but also many other companies/organizations that want to quickly and easily start implementing their own LoRaWAN® use cases in the Internet of Things. On the other hand, with the GatewayPLUS Indoor, a Minol ZENNER Connect network that is already in use can be expanded or expanded at low cost.
The gateway is ideal for the realization of a wide variety of applications such as multi-section reading (heat cost allocator, water and heat meter, smoke alarm device, etc.), submetering, monitoring of local network transformer stations or air quality measurement (e.g. CO2 level). The prerequisite for this is, of course, the corresponding devices/sensors that send their data via the gateway.
Construction & Use of Common IoT Infrastructure
Each GatewayPLUS Indoor automatically expands the LoRaWAN® network of Minol ZENNER Connect GmbH. This means that, due to the technology, all LoRaWAN® end devices in the reception area of your gateway are received in encrypted form and transmitted to the Minol ZENNER Connect as the network provider. Encryption and client separation in the B.One Middleware ensure that each end user only receives the data from their own end devices. By purchasing a GatewayPLUS Indoor, you also create added value for the entire B.One Community, as this creates an ever-growing, jointly usable IoT infrastructure. You yourself benefit directly from the connectivity even beyond the reach of your own gateway – and together we are driving digitization forward in various areas. And so that as a community member you can see where there is already network coverage through the gateways of other members, you can optionally display the approximate position of your own gateway on the so-called Community Map.
GatewayPLUS Indoor with optional Visualization
As described in the overview article on the ZENNER IoT Gateways, the GatewayPLUS Indoor is also available in the ZENNER Shop, with or without the ZENNER IoT PLUG&PLAY comfort option. The advantage of the latter: in addition to the LoRaWAN® network access that is always included, you also receive a2-year license for the B.One Gallery visualization platform. With this you can easily visualize and evaluate the data from up to 50 IoT sensors.

Here is an example of the visualization of relative humidity and CO2 level in the B.One Gallery: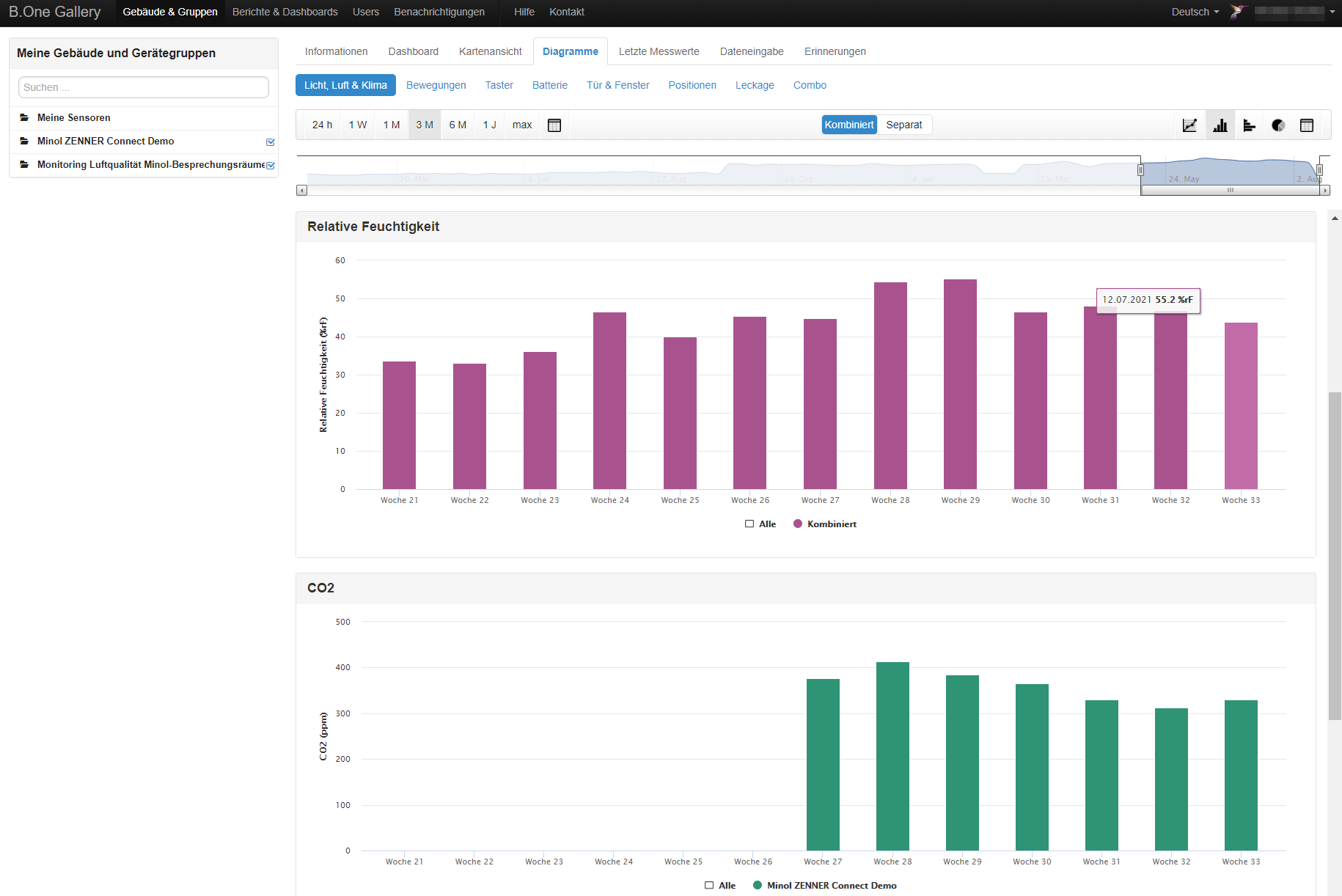 Installation & Setup – easy & fast
Installing and setting up the GatewayPLUS Indoor is quick and easy, similar to the GatewayPLUS SMART. Whether ordered with or without the ZENNER IoT PLUG&PLAY convenience option, the pre-configured gateway will be available upon delivery through the installation already made for you in the B.One Middleware (see above) in the Minol ZENNER Connect LoRaWAN® network and automatically establishes a network connection after switching on (even if, as explained above, you cannot see it in your personal middleware account/client, which you will receive or have already received after ordering the gateway). If no separate power connection is required at the desired installation location, all you have to do is mount your device on the wall with the supplied screws and dowels and the mounting plate and plug it in. It can already receive the data from your sensors within range and forward it to a visualization platform such as the B.One Gallery. A full step-by-step guide to installing and assembling the GatewayPLUS Indoor can be found in the associated assembly instructions.
Have you already gained experience with the ZENNER IoT Gateway Indoor or do you have any questions? Then share them with us in the comments or send us a message!
Recommend

0

recommendations
Published in Gateways, Visualization, ZENNER IoT PLUG&PLAY